CEREC Same-Day Dental Crowns – Derry, NH
Repairing Your Smile in One Visit
When it comes to safeguarding your smile, you may not want to wait weeks for a lab-created dental crown. Luckily, Dr. Berkal and our team are here to offer a truly innovative solution – CEREC same-day dental crowns in Derry. Using advanced technology and specialized software, we can create your new artificial tooth in-house while you wait. Call us today to learn more and find out if you're a candidate for this treatment.
Why Choose Brenda Berkal, DMD for CEREC Same-Day Dental Crowns?
Dentist Devoted to Continuing Education & Advanced Training
In-House Milling Unit for Fast Restoration Creation
Patient-Focused Treatment for Optimal Results
What Are CEREC Same-Day Dental Crowns?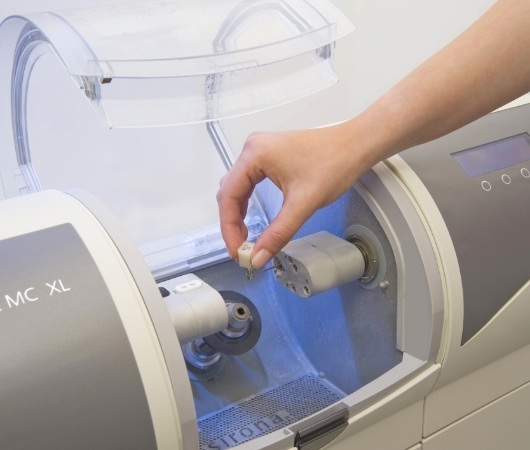 Dental crowns are uniquely designed "caps" that fit over problem teeth that have suffered damage or decay. They're also used to treat sensitivity, pain, or unsightly aesthetic issues. CEREC same-day dental crowns are no different. Standing for Chairside Economical Restoration of Esthetic Ceramics, this technology allows Dr. Berkal to design, create, and position a new dental crown in just one visit. Instead of scheduling multiple appointments or wearing a temporary crown, we can create your restoration while you wait, allowing for a more convenient option as opposed to traditional dental crowns.
The Process of Getting a CEREC Same-Day Dental Crown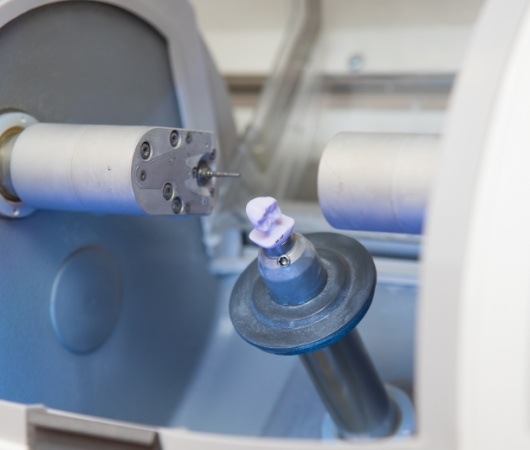 When receiving a CEREC same-day dental crown, Dr. Berkal will begin by administering local anesthesia to make sure you feel no pain throughout the process. She will then sculpt your tooth to ensure that the crown properly fits once in place.
She will then take digital impressions to create a three-dimensional image of your tooth. By using this type of technology, it eliminates any need for messy and uncomfortable dental impressions. The 3D model is then sent to an in-house milling unit that will craft your customized crown while you wait. Using a single block of porcelain or ceramic, the machine will ensure that the size, shape, color, and other specifications match your natural tooth.
When ready, Dr. Berkal and our team will place the crown over your vulnerable tooth to ensure a proper fit. If adjustments are necessary, they will be made at this time. If not, it will be bonded to your tooth so that you can begin to enjoy your new smile.
The Benefits of CEREC Crowns vs. Traditional Crowns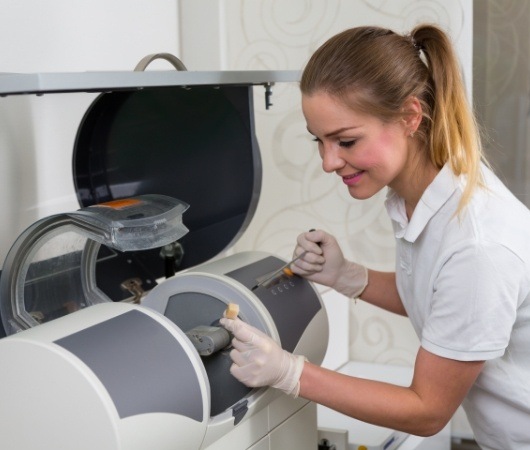 Many unique benefits come with CEREC crowns. When compared to those of traditional crowns, you'll find that CEREC:
Allows for greater convenience because you do not have to schedule multiple appointments or wait weeks for a dental crown.
Does not require that you wear a provisional crown in between appointments.
Uses digital impressions to create a model of your tooth, whereas many dentists still turn to cold, messy dental putty for traditional crowns.
Produces lifelike, natural-looking results.
Allows for better oral health because it does not contain any metal. Your body does not sustain any mercury exposure or temperature sensitivity.
The costs are similar but because your crown does not need to be created in an outside lab, the savings of in-house creation are passed along to you.