Dental Implants – Derry, NH
The Permanent Way to Enjoy a Healthier Smile
There are several ways to replace missing teeth, some of which have been around for centuries (i.e., dental bridges, dentures). However, there is only one solution that can replicate the look and feel of natural teeth – dental implants. Capable of restoring teeth from roots to crowns, these prosthetics deliver unique advantages that are resulting in more than 500,000 being placed each year in the United States. Discover what you need to know about dental implants by calling our office to schedule a consultation with Dr. Berkal.
Why Choose Brenda Berkal DMD for Dental Implants?
Partners with Local Oral Surgeons for Implant Placement
Dentist with More Than 4 Decades of Experience
Cone Beam Scanner Used for Enhanced Treatment Planning
What are Dental Implants?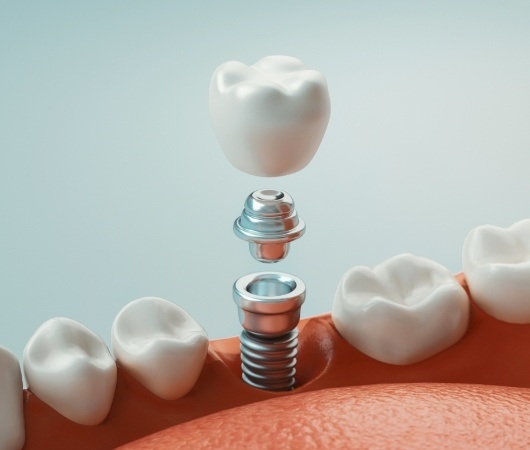 As permanent prosthetics that are placed in the jawbone, these titanium posts deliver continuous stimulation so that your facial structure does not sag or "collapse." Unlike other tooth replacement solutions that only replace the visible portions of teeth, dental implants restore teeth from the roots up, allowing for optimal stability and durability that is known to last a lifetime. And because of their versatility, they can replace any number of missing teeth.
Dental Implants - A Multiple Step Process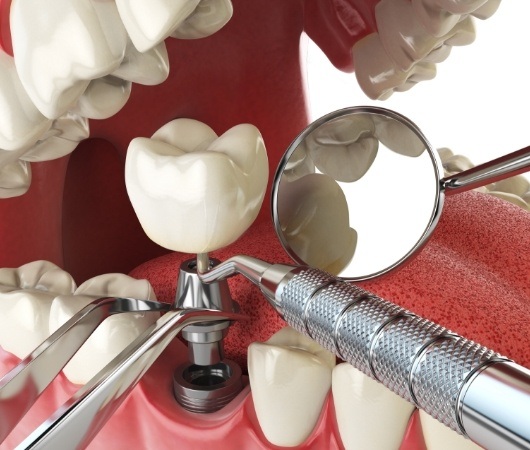 If Dr. Berkal feels you are eligible for an implant, we will coordinate your care with an oral surgeon or periodontist. They will decide if you require any form of pre-implant treatment such as bone grafting, periodontal therapy, or tooth extraction. Once you are ready they will place the implant.
The next 3-6 months will involve time for healing while also allowing osseointegration to occur, which is the fusing of your implants with the existing bone. Once the specialist has informed us you are fully healed, we will begin the restorative process. You and Dr. Berkal will pick the shade of your crown and she will make sure the teeth on either side of the space are healthy. Once fabricated, your custom abutment and implant crown will be placed by Dr. Berkal. The abutment is what connects your crown to the implant that was placed months before.
Benefits of Dental Implants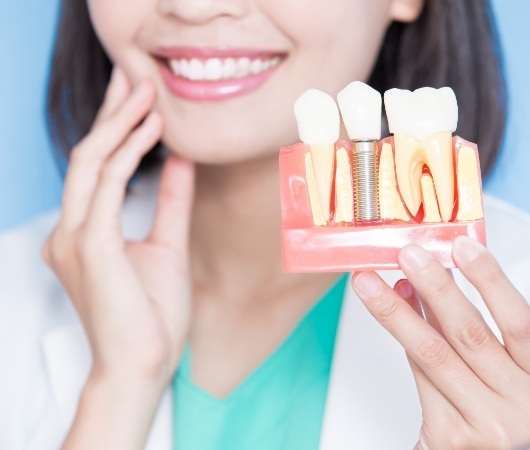 Choosing dental implants over dental bridges or dentures is worth the time and investment simply because of the many benefits you can expect to enjoy. Some of the most common advantages include:
Improved oral health, as your implants will work just like regular teeth, allowing you to clean your smile regularly.
Greater confidence in the way you look and how you feel about yourself.
Being able to eat all your favorite foods without worrying about your prosthetics falling out or slipping while chewing.
Enjoying a better quality of life that allows for clearer speech and the ability to embrace new opportunities at home and work.
A reduced risk of systemic disorders and conditions that are commonly linked to tooth loss. These can include everything from diabetes to cardiovascular disease.
Who Dental Implants Can Help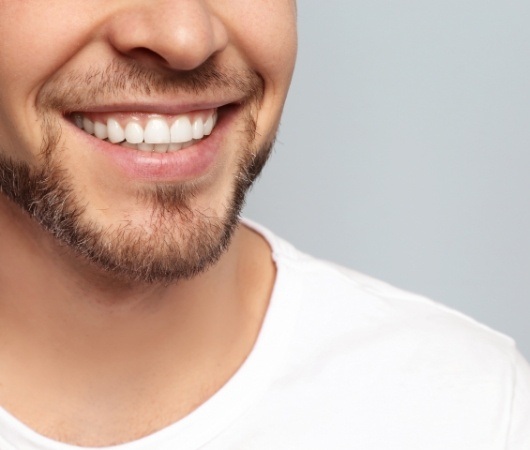 If you are missing one or more teeth, there is a good chance you will be able to enjoy life with dental implants. Although you are required to undergo a thorough consultation with a member of our team, we will work with you to establish the best way to pursue treatment so that you can avoid settling for a more traditional form of tooth replacement and instead, enjoy the benefits that only dental implants can provide. When meeting with your implant dentist, you can expect to learn more about this versatile treatment option and how it can treat all forms of tooth loss, including:
Missing One Tooth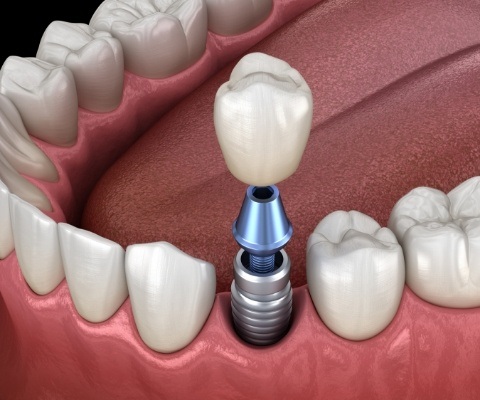 Using a single titanium implant post, a metal abutment connector piece, and a customized dental crown, we can replace one missing tooth without altering healthy teeth nearby. This eliminates the need for a fixed bridge and instead, focuses on treating your vacated socket with a permanent prosthetic.
Missing Multiple Teeth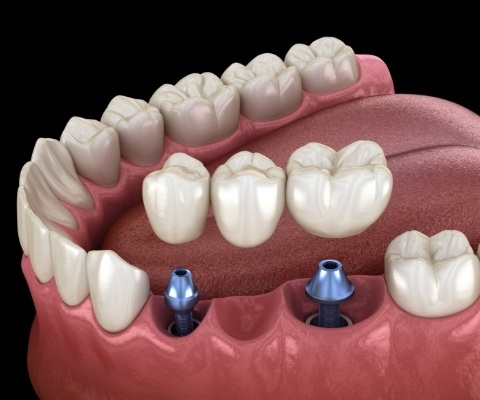 Unlike a fixed bridge that uses healthy abutment teeth as anchors, an implant bridge relies on two dental implant posts to support the customized restoration. By securing your new smile to two titanium implants, not only will you continue to stimulate your jawbone, but you'll also enjoy improved eating habits and the ability to speak without slurring your words.
Missing All of Your Teeth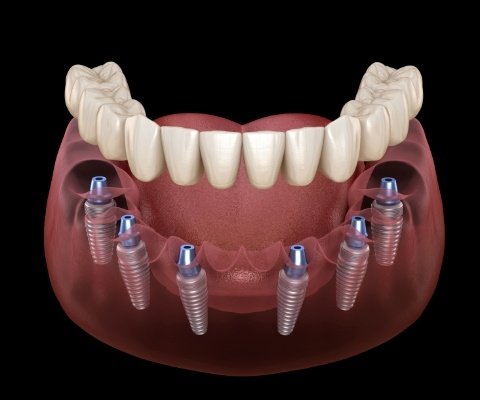 An entire arch of missing teeth can be a devastating reality; however, with implant dentures, we can use 4-6 titanium posts to rebuild your smile before securing a custom-made prosthetic that mimics the look and feel of a natural set of teeth.
There is also the option of using only four dental implants should you lack the necessary jawbone density to support traditional implant posts. With All-On-4, we can use the densest parts of the bone to support a customized prosthetic that will fill in the arch of your smile.
Understanding the Cost of Dental Implants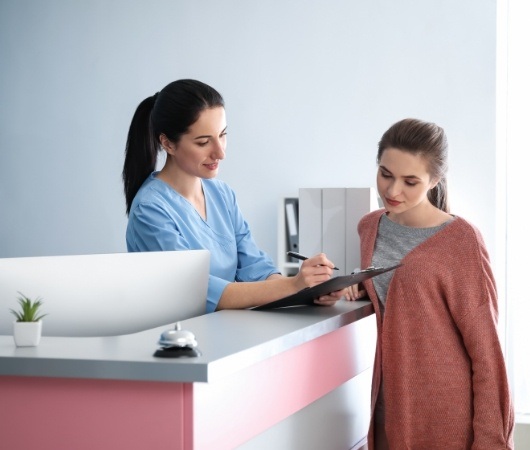 Do not assume that your dental implant treatment will cost the same as someone else. Each case varies in cost based on the factors that must be considered by our team. Because you'll be required to see an outside oral surgeon for surgery, you can expect there to be a separate cost associated with your treatment; however, our team will work to identify ways to help you save so that you avoid high out-of-pocket expenses upfront.