Restorative Dentistry – Derry, NH
Giving Damaged & Decayed Smiles Another Chance
Tooth enamel is considered to be the hardest substance in the human body. This may be encouraging, but do not believe that it's indestructible or impenetrable. Decay and unwanted pressure can damage your pearly whites in such a way that many dentists make restorative dentistry a major component of their practices. Whether it is CEREC same-day crowns, full mouth reconstruction, or tooth-colored fillings, Dr. Berkal is here to help. Call us and let our expert team give your smile a second chance.
Why Choose Brenda Berkal DMD for Restorative Dentistry?
Same-Day CEREC Dental Crowns Available
Natural, Lifelike Restorations Used
Digital Impression System for Greater Accuracy
Dental Crowns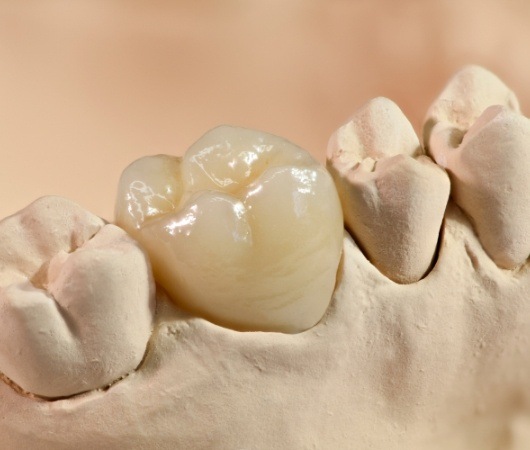 When faced with a tooth that has suffered severe decay or damage, it's important that you seek a reliable solution that will serve to protect against future reinfection and harm. This is possible with a dental crown. Commonly referred to as a cap, this customized restoration is designed to fit over the natural tooth so that bacteria, food debris, and other harmful particles cannot reach the vulnerable area.
Typically, front dental crowns are created and placed within 2-3 appointments and can be made using an array of materials such as EMAX, zirconia, and porcelain. Crowns for back teeth are typically completed in a single visit. Based on the location of the tooth, the severity of the damage, and your personal preference, Dr. Berkal will select the material that is best for your unique needs. Once put into place, you'll be free to eat, smile, and speak like normal while your underlying tooth is protected.
Same-Day Dental Crowns & Restorations with CEREC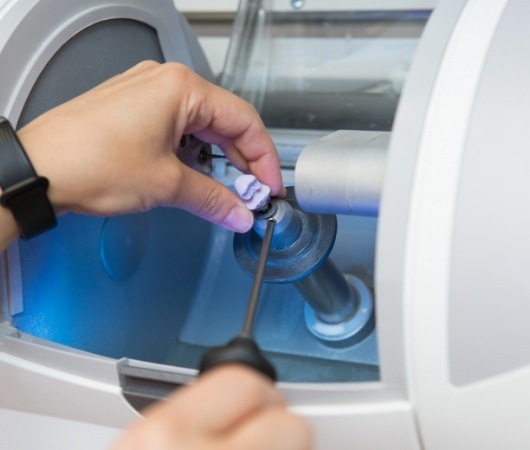 While there is the option to have local lab technicians create your customized crown or restoration, we are pleased to provide same-day dental crowns using CEREC technology. With advanced software that is designed to scan your smile, produce a 3D model, and fabricate a uniquely designed crown while you wait, Dr. Berkal can deliver a durable, natural, and lifelike restoration thanks to our in-house milling unit that will fabricate your artificial tooth in just one appointment.
Learn More About CEREC Same-Day Dental Crowns
Tooth-Colored Fillings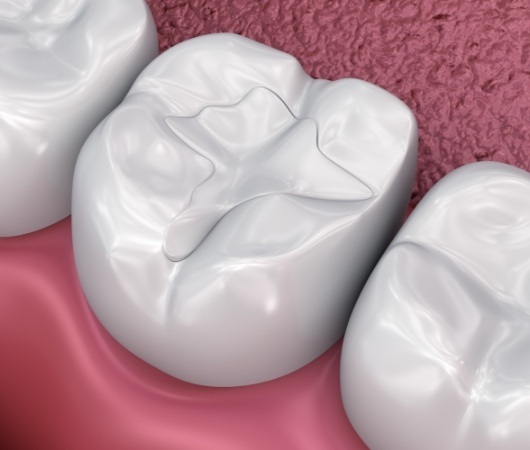 Cavities can arise even if you are diligent about your oral hygiene routine. Fortunately when caught early on, there is a conservative solution that can remedy the problem and put your smile back on track – tooth-colored fillings. By cleaning the decayed area of the tooth, then filling it with a malleable material known as composite resin, we can ensure that the color matches that of your natural tooth and blends in seamlessly, hiding the fact that you ever received dental work.
Full Mouth Reconstruction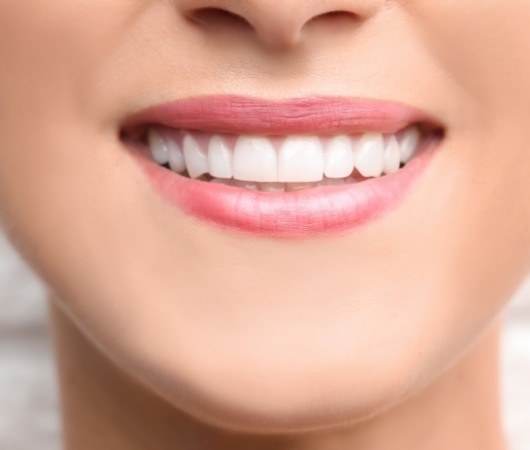 Full mouth reconstruction is an ideal treatment option if you suffer from a smile that has sustained multiple injuries and much decay over the years. Although it might seem impossible to rebuild and restore your smile, Dr. Berkal and our team can address problem areas using a single treatment plan that consists of various restorative and cosmetic solutions. You will enjoy a smile that looks and feels like new.